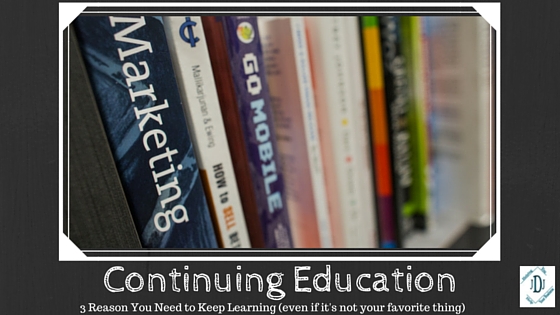 Continuing Education is Important for Everyone
School's out for the summer here in South Carolina, but June is a time I take to see what I want to keep learning as a Virtual Assistant.  I love to keep learning, but I also need to make time in my schedule to do it so I don't get behind or overwhelmed 😉  Learning new techniques and methods to do things helps me help my clients grown their businesses – which means I'm doing my job well!
But when you say the term "continuing education", not everyone is as excited about it as I am…some people get anxiety about it actually. They like to keep in their routines, and "don't rock the boat" or "if it ain't broke don't fix it". But, you always need to keep growing with your business and practices. In this ever-changing world, you need to know how to adapt your website, marketing, products, and customer care to reach more potential clients and keep the ones you have coming back to you for more! So if you're still on the fence about learning new things, let me try to provide some inspiration…
Things change – All. The. Time.

  If you're not keeping up with how your bookkeeping software might have changed, you might be in trouble. Advertising is constantly changing! And it's leaning more towards inbound or content marketing (drawing your ideal customers to you, vs. you trying to find them). Don't even get me started on how quickly social media changes! New software comes out or is updated. You may need to start utilizing programs like Infusionsoft or Mailchimp to grow your leads and business. If you have no idea what I'm talking about, don't get scared 😉 Look at your business and pick an area you want to focus learning more about: bookkeeping, social media, marketing, etc. Then, do some research to find some courses that will teach you and block off some time in your calendar to do them!
Continuing Education keeps you current.  You need to stay on top of the latest methods and updates. If you're website looks like it was from the stone-ages, you'll loose out on a large audience of younger generation that are used to instant gratification. Think about how much profit might be going out the window because you don't want to update something in your business just because you don't know how to do it. Bite the bullet and take some time to learn – in the long run, it will help your bottom line!
It keeps you mentally young/sharp. We've all heard that doing crosswords will help keep you young…it's because the brain is working! Well, it works a lot when it's learning something new 😉  See how much younger you feel when start learning something you're passionate about – it's energizing!
I hope you'll rethink your continuing education plan so that you make time to learn something new. And even if it's not about your business – learn something new and fun to do in your personal life. You'll be amazed and how fun it can be 😉
What am I working on this year for my continued education? Getting Certified for Inbound Marketing, and learning Infusionsoft to be able to offer that for my clients 🙂  I've already learned how to create a basic GIF in Photoshop this year, and it was so much fun! It was such a rewarding feeling when I finished and it worked!  What about you? What have you learned about recently?