Do what you love, and love what you do <3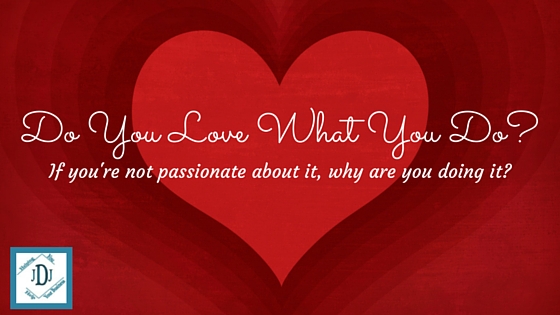 It's February, and almost Valentine's Day…so needless to say I have "love" on the brain 😉 But, instead of talking about ways to love your boyfriend, husband, kids, etc., I'm going to ask you a question: Do you love what you do? Think about it – with your job, do you genuinely love what you do? Remember that last HUGE lotto winning? They had one of the winners on the Today Show, and I think she surprised a lot of people by saying she wanted to go to work the following Monday.  I mean, how many of you would actually say that?  To be honest, I would!  Sure, every day in my job is not easy, but whose is? They can't be rainbows and butterflies every day.  You will always have to deal with problems that come up, mistakes that have been made, or issues that need to be handled.  But, as we love to say in The South: you put on your big girl panties and deal with it 😉  Now, I always recommend trying to handle those with grace, understanding, and as calmly as possible (another great Southern saying: you get more with honey than vinegar!) but you still deal with them and move on. Overall though – I LOVE what I do.
I LOVE my VA clients.  We have been through an awesome process before even working together to make sure we would be a good fit. We've gotten to know one another on a deeper level.  We've celebrated some successes, and dealt with some set-backs.  But when you go through these things together, you build trust and bonds that are so deep that it hurts me when something out of my control happens to them.  Maybe I'm just a softie 😉  Then again, when my Ideal Client and I match up, we are unstoppable!  And because they are my ideal client, I LOVE the work that I am doing for them – it fits me and my strengths. And what I need support on, they are there to back me up, just as I am there to back the up.
As all my current VA clients know, I also still own my in-home dog training business.  And I love working with my manager and trainers.  We are a family, and we look out for each other.  Having restructured that business so I could stay home and be with my family has let me (again) play to my strengths: paperwork, bookkeeping, social media, email marketing, and basic image creation (to name a few). Plus, being able to spend time with my family has brought me more happiness than I can say – and I LOVE that.  I still get to dust off my trainer's hat every once in awhile when they have tried several methods for a certain problem, and I remind them about another one 😉  We back each other up, and I like it that way.
So how about you?  Do you LOVE what you do?  Share about it below – go on, BRAG about it because it is awesome 😉
If you're not passionate about what you're doing – then why are you doing it?  Can you use that to change your attitude so that you get more joy out of your work?
If you don't love what you do, have you considered how to change that?  Does it mean changing jobs, or maybe just changing departments?
Does it mean finally taking a leap and starting your own business, or finding a business partner that shares your dream?  You do deserve to be happy in what you do, but it will take hard work.  Ever heard the phrase "nothing in life is free"?  Well, there's truth in that.  If you are wanting to start your own business, there is a lot of time, work, and prep that needs to go into it before you "open the doors".  Make sure you have a business plan, for starters.  There are plenty of examples on the web if you need inspiration.  And those take time to write up!  But if you make the time, put in the effort now, you will be amazed at how much better off you are once you open a business.  Part of that business plan is figuring out a game plan for leaving your current job if you are opening up your own business.  Think ahead!  You don't want to go bankrupt before you get your feet off the ground 😉